With many people browsing the internet to find a good read, blogs seem quite promising. It's because they cover every topic you've ever wanted to read. From electronics, makeup to marketing, there is adequate information that awaits you.
A blog (shortened from weblog) is a web page, or online journal regularly updated with information that readers find educational or inspirational. The latest posts based on the particular subject from the writer or writers appear first (reverse chronological order). A blog is not an acronym.
Blogs introduce you to people, expand your knowledge, and bring about new perspectives and ideas. While it's helpful and inspiring to find great blogs, getting a relevant, informative, and quality blog to read can be hectic.
However, with the knowledge on how to find great blogs to read, it's easy to identify, follow, and subscribe to a particular blog because it complements your interests.
But where do you start? Whether you want something that reflects your interest or to explore new and exciting topics, we highlight 10 ways to help you find awesome blogs that you'll love to read.
But first, what is a blog? You probably have an idea, but let's get into it in detail for a clear understanding of this context.
About Blogs
The purpose of a blog varies based on the intended use. It can be a platform to let people know about your brand, promote yourself as an expert, promote business, or even share worldly thoughts and feelings. With that, you get to connect with your audience, making it possible to generate traffic and leads.
When it comes to blog structure, the appearance will vary. However, standard things like the header, main content area, sidebar, and footer section don't differ much across many blogs.
Booming Popularity of Blogs
Blogs began in 1994, and popularity has grown since then. According to GrowthBadger, there are over 600 million blogs on the internet in 2020. That is clear evidence that blogs are still on the rise like never before, and people still read them.
So, why are blogs so popular? It's vital to note that quality content is a critical factor that keeps readers glued to the blogs. The following are some of the reasons for blog popularity.
People now check for relevant and trendy information on blogs.
Brands find it easy to maintain client relationships and communications through blogs.
Blogs attract customers and maintain existing, loyal followers.
10 Ways to Find Great Blogs to Read
You now understand what a blog is and the booming popularity, but how do you find the right choice to read? You must be curious to know. Discover new blogs with the following proven ways.
1. Find Blogs in Your Search Engine
It's the easiest way and most known approach. You only need to search a keyword on your search engine, and you're good to go. Come up with keywords based on your interests, and frame it to get maximum results.
You're not restricted to a particular search engine. Whether you love Google, Bing, or Yahoo! Search, you're assured of results. Using multiple sites gives varying results, increasing your search results.
For example, if you want to read health blogs, you can search for "Best health blogs," "Top health blogs," "Preferred health blogs," or "Favorite health blogs."
2. Blog Directory
A blog directory is quite specific. The online encyclopedic catalogs reveal blogs you have interest in. You'll, however, need to use the right keyword.
Directories are not as popular as it was years ago, but they're not a bad place to commence your search. The old school approach helps you to know some new blogs, and quench your thirst with new resources.
Here are some directories to try out:
Alltop
Technorati
Blog Catalog
YourVersion
Blog Flux
3. RSS Search Engine
RSS Search Engine is one of the simplest tools to find blogs to read. You can search for a keyword, niche, or topic that interest you at various levels.
What happens next is magical. It gives you results that indicate the actual blog and RSS feed to help you subscribe. Results are based on merit and not promotional.
The search showcases even the most popular blogs. You also have a chance to carry out an advanced search to get more detailed results. If you're looking for a way to find and follow popular blogs, RSS is an ideal
4. Browse Popular Blogging Platforms
You can find blogs on popular blogging platforms. These are sites where writers publish their content. Here, the results depend on the particular site of preference, and you'll get to find a new read.
Blogger, WordPress, and Tumblr are good platforms to try out. For example, free Blogger sites have a blogspot.com. A search with advanced search operators like Google's Inurl will enable you to find all sites that Blogger hosts.
Tumblr blogging platform also has a search bar to help you find top blogs popular in its platform. Browse the Tumblr trending page for more blogs you'll love to read.
5. Use Social Media to Seek Recommendations
Social media is ideal if you want recommendations from people seeking to promote their blogs or good recommendations from friends. Whether you post on your timeline or groups, you'll get adequate blogs.
It works better when you know your audience, where to target, and your niche of interest. For instance, if you're into finance, a finance group, or friends in the finance sector will help adequately.
Facebook, Twitter, Instagram, and Google+ are good starting points. You can later expand to other platforms. Inquire widely to increase your chances of getting more options.
6. Twitter and LinkedIn Search
Away from the random inquiry on social media, Twitter and LinkedIn enable you to search widely. Unlike many platforms, Twitter and LinkedIn users love sharing links as they converse, update their timelines, or share ideas.
Both have a search function to find the blogs of choice. It's simple. Type a particular keyword depending on the niche, and search to see results.
Advanced options allow you to get finer and more specific links. The majority of blog owners have Twitter and LinkedIn blog pages, which means more options for you.
7. Check Out Pinterest
You can discover a lot from Pinterest, and you don't have to be a vivid user to link to blogs on your preferred boards. Create an account, and you'll be ready to browse the categories.
The easiest way to know blogs that suit you is to find a category that closely reflects your niche. Keenly look through and click a few pins. Alternatively, use Pinterest's search function for more pins.
In either pin, you'll find a link that accompanies the various images. You might not get the best results, but you won't miss a few blogs to excite you.
8. Link to Your Favorite Blog Followers
If you already have a blog that you love, the chances are that your favorite blog has followed a few blogs or accounts you'll like to read. It's because most often, they tend to follow people in a similar niche.
Social media remains the best place to know the followers, especially with Facebook, Twitter, Instagram, and LinkedIn growing massively. First, follow them, and have a look at other members, groups, or companies.
Some blogs don't include links to other blogs on their websites; that's why social media is appropriate. You'll end up with multiple blogs to read with this approach.
9. Seek Recommendations from Your Mailing List
If you have a mailing list, seek recommendations, and many will be happy to reply with their blogs or others that they love to read.
Prepare a form where they will fill the details with a description of the blog. That's the only way to ensure you pick the best without slamming your inbox, especially if you have a big mailing list.
10. Check Commenters on Blogs
Whether on your blog or other blogs, checking on the comment section lets you come across other people's blogs. However, this is only possible for the sites that enable comments from readers.
Engage those commenting and have a look at their blog. Chances are you'll like what they like, especially when a post is focused on the subject you love.
Some blogs attract high readership, and people are highly engaged in every post in the blog. Read through the comments, and you'll notice a few links that lead to blogs. Check them out!
Where to Find Great Blogs to Read: Must Read Blogs
Knowing how to find great blogs is a good step, but when coupled with the knowledge of where to find perfect blogs, you get to avoid a frustrating experience of reading what you don't want.
Whether you're a writer or a vivid reader, here are some of the best sites worth checking out. They include:
The New Yorker
Daily Writing Tips
Copyblogger
Content Marketing Institute
Positive Writer
The Articulate blog
Social Media Today
Read Your Niche and Personal Blog Today
You already have the answer to "What Does blog stand for?" and how to find great blogs to read. The 10 ways will generate multiple blogs, and in the end, you'll have come up with a comprehensive list in your spreadsheet.
Bookmark ASAP for future reads. Do you have any other ways to find new blogs to read? Please do share with us.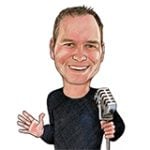 Shawn Manaher is the founder and CEO of The Content Authority. He's one part content manager, one part writing ninja organizer, and two parts leader of top content creators. You don't even want to know what he calls pancakes.