Being active in social media as a business isn't just about having a flashy profile and driving up the number of followers you have. It's about making money. Sure, there may be other goals, but ultimately, businesses do things to make more money. It's known that you can do that on any social media account, but how do you track your progress? Check out our tips for tracking social media campaigns using Google Analytics.
URL Tagging Your Campaign
You can always see referral traffic from social media websites in your Analytics reports, but you won't be able to determine what links traffic came from. For instance, you may share links to blog posts on Facebook every week, and you may see traffic from Facebook in your reports, but you have no way of knowing which links (blog posts) generated more interest in your website. The same is true if you share links to pages on your website that contain special offers or any other links that you share leading to your website.
URL tagging works by allowing you to assign parameters to URLs from your website resulting in a new URL to use for your campaign. When visits occur as a result of that URL, the parameters that you define show up in reports and are much easier to track to conversions. Note that you must have Google Analytics installed on your site in order to utilize URL tagging.
Google provides a URL builder that makes it easy to insert parameters into your URLs. You can find it here.
You must enter values for at least the campaign source, medium and name. Keep in mind that these can be anything that you want them to be, but use values that will be both descriptive and easily recognizable in reports later on when you are analyzing data.
Setting up Goals and Events
Instead of tagging URLs, you can use goals and campaign-specific landing pages to track social media marketing success. Once you get people to your site, you have to set up a way to track what they are doing. In Google Analytics, you can see referrals and visitors if you have the tracking code installed; however, when you are tracking specific campaigns, you need a way to filter out the data you don't need.
Goals
You can track both pageviews and events using goals in analytics. It used to be that events were not a feature of goals and had to be tracked separately. Now that they are, there is no need to look at different reports to find out if visitors took a specific action on your website.
We've covered setting up goals before, so we won't do it here, but there are a variety of benefits to tracking your campaigns in this manner. You can learn about setting up event tracking here.
Only data related to your campaign is aggregated in a report

You can specify rules for your goals so that visitors who come in through some other path are not counted

You can make a URL destination a goal or something that doesn't generate a pageview, like a video playing or the click-on-a-button that goes to an external shopping cart
You can easily determine the ROI of a campaign using goals
That last point is possibly the most important. You can make the confirmation page of a product purchase, a service signup, a quote generated or a button-clicked the trigger for your goal. You then know without a doubt that someone who clicked on a link you shared on Facebook, landed on the page that begins your conversion funnel, and eventually made it through the process to buy.
Social Sources
Social traffic sources reports in Google Analytics shows you data related to the social web and how it impacts your website. Here you can view a broader picture of how social networks are contributing to your overall website traffic.
For example, you can see what networks are already sending you a lot of traffic, which ones assisted or directly contributed to conversions, what landing pages received the most referral traffic from social websites and a lot of other data.
Using these reports, you can see which networks are of high value to your business. Perhaps there is a network you weren't active on before that is sending you a lot of traffic. Maybe you see that out of all the networks you are active on, only a couple of them bring any real value to your business.
You can view social sources reports under traffic sources -> social.
It's super easy to track social campaigns using Google Analytics. You can either tag URLs so that you can easily see how traffic is being referred and where it is going on your website, or you can set up goals. Tracking social campaigns is the first step to determining the ROI of your social efforts.
What methods do you use to track social media campaigns? Let us know by dropping a line or leaving a comment below.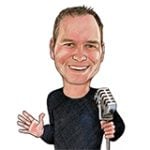 Shawn Manaher is the founder and CEO of The Content Authority. He's one part content manager, one part writing ninja organizer, and two parts leader of top content creators. You don't even want to know what he calls pancakes.