There's no denying that social media platforms offer a powerful tool for personal branding campaigns. However, you're not simply setting out to increase visibility or generate awareness. Yes, self-promotion does play a role, but building a memorable, positive image and reputation goes far beyond that.
The following tips will ensure your brand is authentic and purposeful so that you can have a greater impact on your community.
#1 – Understand your objectives and intentions before you establish a presence.

Like any marketing or branding initiative you decide to pursue, you need to figure out what your goals are and how you can best serve your community while attempting to achieve them. Keep in mind that once you create a social media account and begin engaging others in conversation, you should not stop. Personal branding is a journey that requires consistency and commitment, so make sure you have a strategy in place and that you're prepared to deliver value at every opportunity.
#2 – Take control of your personal brand before someone else does.
Are you happy to let others label or define you? Probably not, but that's what you're doing if you're not living your authentic self. The last thing you want is to live someone else's perception of the person you are, so claim your social media property today and start molding your profiles and interactions to reflect your true identity.
#3 – Leverage social media to build your relevancy offline.
It's great that you're establishing your credibility in the virtual world, but you'll make an even bigger impact and add value to your brand if you can provide an identical, if not better, experience of "brand YOU" in the real world.
#4 – Find a comfortable mix that works for you.
The reality is that we're not all built to be Youtube stars or Instagram legends. Introverts may fear the prospect of a profile picture while extraverts usually can't wait to post a video of their latest keynote address. Once you figure out your approach to personal branding and understand your intentions, you need to identify the platforms that make you feel most comfortable while effectively communicating your brand message and personality.
#5 – Connect with the right people.
You can tell a lot about a person based on the company he or she chooses to keep. Therefore, aligning your brand with the wrong individuals can mean disaster for you on both a personal and professional level. Don't accept unsavory behavior, negative thinking, or mediocrity. Associate yourself with people who will elevate your brand and help you achieve your objectives.
# 6 – Evaluate your brand and assess how much value you truly add to society.
Be honest. Are you contributing enough? Do others perceive your personal brand the way you do? There may never be a way to gauge your social capital, but the chances are you're doing something right if your social media communities are growing.
Ultimately, your personal brand is an asset. Make sure you protect it by being mindful of your community, positioning yourself in a way that allows you to be a role model, and creating a positive experience for anyone who encounters you in both the virtual and real world.
Are you actively building your personal brand through social media? Do you think there's room for improvement? Let us know what you think…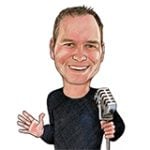 Shawn Manaher is the founder and CEO of The Content Authority. He's one part content manager, one part writing ninja organizer, and two parts leader of top content creators. You don't even want to know what he calls pancakes.