The Mechanics of Writing Good Copy
Writing good copy requires practice, and plenty of trial and error. Copywriting is like being handed all the parts to a complex machine, and then being told there's no manual included. Although you'll pick up tips and advice along the way, and you might vaguely know what each component is supposed to look like, you're the person responsible for making all those precious parts work in harmony.
With copywriting the results are always different, but if you know what each component is for and how you can use it to your advantage, you'll be able to produce sales pieces with high conversion rates almost effortlessly. Some components are easier to master than others, but as long as you continue to make progress, you'll find you can excel in the field of copywriting.
#1 Captivating Headlines
The headline is your first opportunity to intrigue your readers. If you can't grab attention and spark interest, the chances are you won't get people to read any further. To write a fantastic headline, you need to know your target market deeply. Step into their shoes for a moment to find out about their objectives and what motivates them. Use the information to create compelling headlines that attract.
Reel the right people in by promising them a benefit that meets their objective. When readers believe they have something to gain from what you have to say, they are more likely to give your copy a chance. Whether you make a shocking statement, use a question to provoke curiosity, make a bold promise followed by a guarantee, or simply employ a commanding tone, you must generate a sense of curiosity and make people believe that reading your copy is worthwhile.
#2 Reader Focus
The way you write will influence the way people think, and feel. Most importantly, your copy will influence how they behave. Sure, your aim is to write promotional material, but if you don't focus on the reader, your potential to gain a new client is lost. Empathize; make your readers feel you understand their problem. People want you to show them how you can make their lives better by solving their problems.
#3 A Relevant Message
Again, this element of writing good copy requires you to understand your target market deeply. In other words, write for the right people. For example, if you're selling ready-made meals and you're targeting working moms, then your copy needs to help working moms relate to your message.
Create a bond with these women. Empathize with the fact that the last thing they want to do is stand in the kitchen preparing a meal when there's laundry to do and homework to supervise. Show them how they'll benefit from the convenience of having ready-made meals on hand. Explain how spending less time slaving away in the kitchen will give them more quality time to relax and catch up with their kids. Explain how nutritious your meals are, so they realize they are taking care of their family's health at the same time.
In essence, your copy should make a personal impact that triggers both the emotional and psychological triggers of a specific group of individuals.
#4 A Conversational Tone
Writing good copy means writing in the way you talk. A conversational tone keeps your copy from sounding boring and stuffy, which helps keep people tuned in to what you're saying. It also helps you make a connection with people, which is important if they're ever going to trust you.
#5 Communicate, Don't Confuse
Marketing hype, fancy language, and technical jargon do nothing for your copy. Keep your language simple, clean, understandable, and polished if you want to keep people reading. Use persuasive, clear, and logical arguments to convince your target market that what you're offering is best.
Great writing is free of ambiguity. It flows well, it makes sense, and it's concise. It isn't littered with common spelling and grammatical errors. There should be a clear thought process that leads your reader to take action. Claptrap only confuses, it doesn't communicate your message.
#6 Provide Social Proof
Social proof shows that people have used your product and seen results, which can boost your sales drastically. You can add testimonials, quotes, statistics, and reviews to your copy. Showing that people find your product or service helpful can help to solidify your credibility.
#7 Promote Unique Benefits
Don't make the mistake of confusing features with benefits. Features tell us about the product; benefits sell the product. Consider the ready-made meals example again; features might include microwave-friendly packaging and nutritional information, while benefits include convenience and extra leisure time.
Benefits let consumers know what rewards are in it for them. You can use persuasive writing to create an emotionally charged picture of what a reader's life could be like if she simply placed her order. Find a benefit about the product that sets it apart and then promote its uniqueness. Show working moms why they should purchase your meals instead of paying a visit to their local store and getting something from the freezer.
#8 A Driving Call to Action
A call to action is not only about telling people what to do next, but it's also about motivating them. You've guided them through the entire sales pitch, now is the time to get them to make a decision. Inspire your prospects to take the action you want them to take, whether it's signing up for membership, filling in a form, downloading an e-book, or buying. Let them know they'll be missing out if they decide to click away from the page. You need to direct them, so they'll respond positively.
When you learn to master each of these elements, you'll find that writing good copy comes easily and naturally. You'll also find that you quickly learn what works best for a certain product and what doesn't. The slightest change in your copy can mean a dramatic change in conversion rates, so keep testing your sales pieces to achieve the results you desire.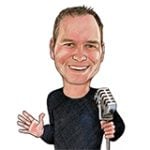 Shawn Manaher is the founder and CEO of The Content Authority. He's one part content manager, one part writing ninja organizer, and two parts leader of top content creators. You don't even want to know what he calls pancakes.