Want to know how webinar marketing pros make the delivery of virtual presentations look super easy? The secret is simple: they practice. While you may believe that hosting this type of event is about knowing your content and cues, the reality is that managing a live webinar requires expert multitasking. After all, you're dealing with technology that may just decide to abide by Murphy's Law when you least expect it. For that reason alone, you need to schedule a run-through of your webinar a few days before the event to ensure you're as prepared as can be.
What should you be doing during webinar dry runs?
A Webinar Dry Run Checklist
Introduce your webinar team members and presenters to each other if they haven't already met. If guest speakers have any questions or require assistance, they should know whom to turn to for help. This is also a great opportunity to encourage participants and generate enthusiasm around the event.
Make certain everyone knows how the webinar software, tools, and features you're planning to use work. You may need to pull out tutorials, user guides, and other training materials to conduct a quick recap for those who aren't too familiar with the webinar service provider you choose.
Conduct a review of your webinar agenda and make sure everyone knows what their action signals are. If there are any persistent issues, now is the time to work them out and finalize changes. Ideally, you want to have your presentation materials loaded before you do a run-through so that there are few interruptions during your practice session.
Check your equipment to ensure everything is in working order. This includes an audio test, features check, and recording check. To avoid any nasty surprises, make sure everyone joins your webinar dry run from the computer they'll be using for the live event. With the equipment check, you'll need to test:

The compatibility of each person's equipment with the web conferencing service you're using;
Sound quality (use a good headset and eliminate background noises or echoes);
Phone-in options;
Plug-ins;
Recording abilities;
And features such as screen sharing, organizer or moderator controls, muting, and chat options.
If you have the resources, you might also want to consider having backup equipment in place if something malfunctions.
Run through your presentation and record it for reviewing purposes later. What you want to pay attention to here is the time it takes you to present your content, as well as the overall flow of your slides, visuals, and other materials. Ask yourself whether your webinar talking points are captivating enough, whether interactive elements such as polls are in an optimal position, and whether transitions between speakers is smooth. Also, take note of each speaker's tone of voice and the pace at which the individual speaks.
Review your dry run recording and note down any problematic areas.
Adjust your presentation if needed, work out any technical problems, and answer any unresolved questions. Once everyone is happy with the outcome, you can wrap things up and wait for the real thing.
The last thing any webinar marketer wants is to be ill prepared or encounter technical glitches at the last minute. Practicing will ensure you know your content, cues, and webinar software. Be smart and schedule a dry run to eliminate unnecessary issues and ensure all participants are comfortable in their given roles.
Do you perform dry runs for your webinars? Is there anything you'd add to this checklist? Share your suggestions with us in the comment section below.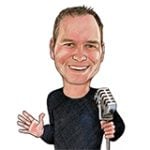 Shawn Manaher is the founder and CEO of The Content Authority. He's one part content manager, one part writing ninja organizer, and two parts leader of top content creators. You don't even want to know what he calls pancakes.