Webinars are ideal for generating leads, moving prospects up the interest ladder, and then converting them to customers, but do you know how to measure your event's success? If you struggle with this aspect of your webinar campaigns, follow along as we cover several marketing metrics you should be tracking, as well as provide tips for ensuring you gain the valuable data you need for improvement. Keep in mind that you should have set benchmarks when you outlined your objectives during strategy development.

Use Solid Reporting Software
Thanks to the rising popularity of the webinar, many analytics service providers are incorporating webinar solutions into their offerings. This is over and above any information collected through webinar hosts. As a result, marketers can now identify the most qualified leads based on behavioral and demographic data, track which campaigns are generating these leads, optimize spending for future campaigns, and optimize conversion paths.
Essentially, marketers now have an opportunity to gain a complete picture of their webinar's performance. Be sure to research your options and select a platform that suits your tracking needs and budget.
Track Your Click-Through Rates
A visit to your registration page doesn't necessarily result in a registration. Therefore, you want to track your CTR to determine the quality of your message and the effectiveness of your landing page. If you're not quite where you want to be, you may be targeting the wrong demographics, using subject lines that trigger spam filters, asking too many irrelevant questions, providing vague information, or failing to connect with your audience. There's also a chance a low CTR indicates your content offer isn't up to scratch, which is why few people are biting.
Measure Your Attendance Ratio
How many people attended your webinar? Now, compare that to the number of people who registered. When you've calculated the percentage, you'll have a clear idea of whether you managed to maintain your audience's interest in the emails and interactions leading up to the event. If your attendance ratio is low, you should assess potential reasons your target audience failed to attend. Did the perceived value of your content decrease between the moment of registration and the moment your webinar started? Did someone else cover your topic first? Was your content no longer timely? These are the types of questions you need to be asking when evaluating performance factors.
Consider the Impact of Giveaways or Prizes
If you've chosen to entice prospects with gift cards, prizes, freebies, or surprises, you need to be aware that this tactic will influence your registration and attendance rates. Your ultimate goal should be to convert high quality, warm leads who will eventually contribute to your business objectives. Giveaways and prizes will likely attract people who couldn't care less about your content, but who are simply in it for the free stuff. Be sure to consider this when measuring registration and attendance rates as success metrics.
Work Out Your Cost Per Lead
Some marketing tactics are more expensive than others, which is why it's crucial to know your cost per lead and, eventually, your cost per acquisition. You want these numbers to be low so that you know webinars are worth it for your business. If they're high, you might need to re-evaluate this marketing tactic, as well as your expenditure on hosting and promoting this type of event. A successful webinar will usually have a low cost per lead.
Measure Audience Retention Rates
Great content combined with excellent delivery should keep viewers hooked until the end. Therefore, you want to follow retention rates and peaks during your presentation. If viewers drop off, it could be because you're not delivering on your promises, you're not delivering content that meets the expertise level of your audience, or there are other problems like technical issues. Keeping your audience interested in what you have to say is critical to the success of your webinar.
Track Engagement Levels
If you've set up polls and other opportunities for real-time interactions, then you need to measure your audience's level of engagement. If people aren't voting or responding in some way, you might need to reshape your presentation. Consider how many people interact with you, as well as how you can use the intel they provide for follow-up conversations.

Determine Whether You Met Expectations
Exit surveys can provide valuable information regarding your level of thought leadership and whether you hit the right spot with your content. First, you want to assess the number of people who take the time to fill out your survey, and then you want to analyze their feedback in terms of satisfaction ratings. Their responses can help you better align your content and promotional messages in the future.
Evaluate Post-Webinar Interest
On-demand viewing stats can provide plenty of insight into the success of your webinar. In addition to generating fresh sales leads, your on-demand version will help you determine post-webinar interest and the value of your content. Have a look at the number of attendees who watched the presentation again, as well as the number of registrants who didn't make the live event, but watched the posted version.
Be Sure To Split Test
A/B split testing is a must for developing effective promotional messages. Hopefully, you're already doing this. If not, consider this your reminder.
Finally, don't forget to evolve your curriculum and tweak your presentations based on your analytics data, survey feedback, and other KPIs. Ensuring your webinars remain relevant and interesting for attendees is the key to leveraging this popular marketing tactic successfully.
Are there any metrics or tips you'd add to our list? We'd love to hear your thoughts, so pop them in the comment section below. Don't forget to share this blog with others who may find it helpful.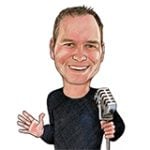 Shawn Manaher is the founder and CEO of The Content Authority. He's one part content manager, one part writing ninja organizer, and two parts leader of top content creators. You don't even want to know what he calls pancakes.