If you are like most people who spend time online, you've probably viewed several pieces of video content within the last week, or even within the past 24 hours. Some people enjoy reading articles on the Internet, other individuals like to spend time looking at pictures, graphics and other images, and many people love the web for its endless gaming options. However, nearly everyone with an Internet connection enjoys watching video content, whether it's for entertainment, education or even marketing. The medium of video has emerged as the leading form of communication on the web in recent years, and it has changed the digital landscape significantly. Through various video marketing strategies, companies and entrepreneurs have become wildly successful. An effective video marketing campaign is able to capture the attention of the public much more easily than any other type of strategy, and when it's done properly, it can give any business the right amount of buzz to boost interest in its products and services.
Failing to Use Video has its Consequences
Unfortunately, some people have failed to make the connection between their personal enjoyment of video content and the medium's ability to help their businesses succeed. They might enjoy watching videos, and they might even spend their money based on compelling video content. However, they fail to integrate the magic of video into their own marketing strategies. If you are afraid that you might be one of these people, it's not too late to begin using a video marketing campaign to help you and your business take a major leap forward.
Some website owners are hesitant to integrate video content because they fear that it will create too much time-consuming work. We are all familiar with the fears that often accompany changes in routine, and it is sometimes easier to focus on the negative aspects of implementing new strategies, especially when the status quo is so comfortable. Certainly, adding video content to a site takes time and effort, but the process of creating a video marketing strategy is much simpler than you might think.
Creating Video Content is Easier and More Cost-Effective Than you Think
When you think about the most effective Internet videos in recent memory, very few of them were made with massive budgets and thousands of person-hours of work. In fact, some of the most successful video content has been created on a shoestring budget by just one or two people. What's more, people have much different expectations when it comes to Internet video content versus visual content that is meant for the television or movie screen. In other words, you don't have to have the budget, workforce and technology to produce a Michael Bay blockbuster to be successful with your Internet video content; you just need to have some basic equipment and a few good ideas.
If you have a digital video camera, a decent microphone and access to the Internet, you can make a compelling piece designed for effective video Internet marketing. One of the easiest ways to make this simple setup work for you is to study videos that you have found to be successful. Are there any videos that you have seen recently that have made you excited to spend time on a certain website or spend money on specific products or services? If so, you should watch those videos more closely to determine the aspects that you find so appealing. Then, you can implement those aspects into your own video. Obviously, you don't want to plagiarize video content that has been effective for others – doing so is unethical and it is a major turn off for potential consumers and website visitors – but you can take good ideas and make them your own by injecting your personality, charisma and passion for your business into your messages.
Help is Available for Your Video Content Needs
Even though it doesn't take a huge budget and professional skills to create video content, it's possible that you simply lack the time and energy to devote to crafting effective video marketing strategies by yourself. If this is the case, you should consider enlisting the assistance of others to help you turn your vision into powerful video content that can help you reach your marketing goals. It's been noted by many SEO experts that video content is most effective when it has been created with specific goals in mind. Some people create videos only to post them with unremarkable results. This is because they failed to take the marketing of their content into account.
By using a video marketing service, you can avoid this fate. The best services are able to help you craft effective videos based on your needs and marketing goals, plus they are able to help your video go to work for you once it's been filmed, edited and posted. Video content has the potential for a remarkably high return on investment, or ROI, but only if it is marketed properly. Video content marketing services have the ability to work with you throughout each step of the process, from developing ideas to ensuring that as many eyeballs as possible have the opportunity to see your message.
It's Not Too Late to Join the Video Content Revolution
Everyone uses the Internet to watch video content these days, and if you want to make sure that your message is reaching the masses, it's important for you and your business to stay as close to the cutting edge as possible. The video medium represents the best way to communicate with the public in our hyper-connected world, and it is certainly the best way to increase the attention paid to your website and your business. If you aren't using video already, you can bring yourself up to speed quickly by implementing some smart video marketing strategies. It takes very little time and effort, plus there is help available to assist in streamlining the process to ensure that your content is as powerful as it can be.
Are you ready for the success that an effective video marketing campaign can provide?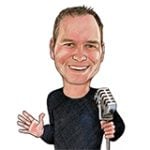 Shawn Manaher is the founder and CEO of The Content Authority. He's one part content manager, one part writing ninja organizer, and two parts leader of top content creators. You don't even want to know what he calls pancakes.