Socializing Your Content Creation – Where Being Fresh Won't Get You a Slap in the Face
When it comes to social media success, one key ingredient that is often overlooked is socializing content creation. While you can retweet posts until the cows come home or update your Facebook wall with your latest hot deals, the one element that is going to help you to build your audience is to deliver to them a fresh supply of content on a regular basis. How many times have you clicked on an interesting link only to find out that the site has not been updated in ages? That is exactly what happens if you do not continually update your social media channels with fresh, interesting, and shareable content. You want to give your audience the opportunity to find your content useful and informative, which makes them want to share it with their social network too. This is an extremely important factor to bear in mind when you are updating your social media channels; would you share what you are posting with your friends, colleagues, etc.? Give your audience information that is truly informative and deliver it to them in such a way that it is easily shared.
Unique Content Creation Options
Content creation is normally thought of as strictly text content but this does not have to always be the case. With the plethora of unique content creation options that are available for free on the internet, you can now find all sorts of creative ways to share your content with your social media network. It is easy to create a video for your website or blog without having to hire a professional photographer or graphic videographer. Using tools like those found through YouTube's Create page (https://www.youtube.com/create), you can easily create your own videos, animated shorts, or even text videos in no time at all. Instead of sharing your latest deal in a basic tweet, you can instead tweet out a link to the video announcement of your deal that you just uploaded to your website or Facebook page. Not only are you networking an interesting tweet that is shareable you are also directing traffic to your website or Facebook page at the same time. Think of it as social media multi tasking. You are sharing interesting information, you are directing traffic to further grow your network, and you are helping to build your own social media reputation as someone who networks in creative ways. The next time you share information, people are more likely to check out your data simply because of how interesting and informative it was the last time.
Infographics and Content Creation
Another creative content creation technique that you can try is to make your own infographics. These are highly shareable and can be created to share just about any information you care to with a network. With websites like Wordle (https://www.wordle.net) you can create slick infographics to share socially using any words you want. From descriptive words about your business, to services you provide, to contact information for your business, these can all be shared in a visually pleasing way when you use infographics to get your message across.
Socializing Content Creation Using the Right Tools!
If you love to tweet and think you out-tweet your competition by a mile then a site like Visual.ly (https://visual.ly/twitter) might be the perfect way for you to show your network just how much better you truly are. You can create a Twitter face-off pitting your Twitter persona against your competitor. If duels are not your cup of tea, then tweeting out your very own Twitter Visual.ly persona might be more to your liking. It helps your network to see your strengths in an interesting way that will stand out.
No matter how you choose to socialize your content, the one factor that you absolutely need to keep in mind is that you need to share FRESH content. While your mother might have tried to tell you that being fresh was not an admirable trait, when it comes to content creation, being fresh is the only way to be.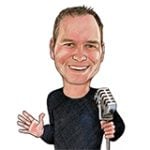 Shawn Manaher is the founder and CEO of The Content Authority. He's one part content manager, one part writing ninja organizer, and two parts leader of top content creators. You don't even want to know what he calls pancakes.