You want a professional—a social media manager who not only knows how to handle the demands of this challenging position, but someone who is also as passionate about your business as you are. A huge part of attracting qualified applicants and eventually hiring the right candidate lies in your ability to write a great job description that is both detailed and accurate.
What should a social media manager job description look like? Follow along as we outline key aspects you should consider when constructing yours.
Job Description – The Basics
If you're familiar with writing job descriptions or advertisements, you'll know that your document should include several basic elements.
Title: While this may seem obvious, many employers list their social media job openings incorrectly. Besides using "social media manager" to improve the volume and quality of candidates, you'll want to use this title because it's the key term job seekers will use when looking for a position like the one you're offering.
Education: Indicate whether a degree, diploma, or similar certificate is required.
Employment Type: Is this a part-time, full-time, or casual position?
Experience: Many social platforms, tools, and marketing techniques are relatively new, so you'll have to be realistic in your expectations. However, you might require additional experience in a relevant area of marketing.
Travel Required: If your company's social media manager is required to travel, you'll need to state that here.
Salary: Pay should be market related and in line with the job requirements.
Benefits: Outline any benefits or bonuses you're offering along with the post.
Location: You'll need to specify the location this position is applicable to if your business has premises in several cities or countries.
Reporting To: Add the title of the individual your new employee will report to directly.
Position Summary
In addition to being concise, accurate, and written in a style that communicates your employer brand, the summary you write should enable potential candidates to qualify themselves for the position a little better. In the case of a social media manager, you'll want to provide a very brief overview of the role and the type of person you expect to fill the role.
Example:
The social media manager is responsible for implementing and leading the company's social media strategy, generating brand awareness and engagement, advocating product and service adoption, and measuring social ROI. The right candidate is a highly motivated, strategic thinker with extensive social media experience and a passion for online community building. The ability to coordinate efforts across various departments to ensure brand consistency is a must. This is a full-time salaried position with benefits and opportunities for growth in a dynamic company.
Key Responsibilities
Although you'll need to outline the responsibilities of your social media manager according to the needs of your business, typical duties include the following:
Develop, refine, and implement the social media strategy. Coordinate with various stakeholders to ensure a company-wide, integrated approach to social programs.
Manage the day-to-day activities of social media campaigns. Duties may include: overseeing account creation and design elements; writing editorial content; online advocacy; content curation; designing, creating, and managing social ads and promotions; developing and managing community outreach efforts; identifying and reaching out to influencers; managing the social media editorial calendar; monitoring conversations and responding to users; cultivating leads and sales; and reporting on ROI.
Manage the online presence of the company on relevant platforms and seed content as per the social media editorial calendar.
Manage the company's online reputation.
Seek out and experiment with innovative methods for social media brand building.
Monitor and capitalize on social media trends, tools, new channels, and apps when appropriate.
Provide feedback to marketing, public relations, and editorial teams regarding relevant insights gained from social media monitoring.
Monitor, measure, and report on the effectiveness of social programs, as well as the impact on overall marketing efforts. Make recommendations for possible revisions to campaigns.
Job Requirements
When it comes to qualifications and experience, there are certain things you can expect to be true of every social media manager.
Skills or Experience:
Strong organizational and project management abilities;
Sufficient knowledge and understanding of social platforms, tools, and techniques, as well as the skill to leverage these assets effectively;
Quick learner with a willingness to experiment;
The ability to demonstrate creative and strategic thinking;
Excellent communication skills—both written and verbal;
A working knowledge of ethical SEO principles and how they relate to social search;
Proficient at implementing and managing a content marketing strategy;
The ability to cultivate and nurture online communities (usually demonstrated through the candidate's own profiles or previous social media work);
In-depth knowledge of various blogging platforms and content management systems;
The ability to identify potential issues and apply customer service and relationship management principles;
An understanding of social media metrics and reporting;
A team player who is capable of taking the lead when necessary;
Marketing, public relations, business development, communications, or sales experience;
And a sense of humor is a plus.
Education:
Bachelor's degree, diploma, or equivalent in marketing, communications, public relations, or journalism.
That's it! Whether you use this as a template or you start from scratch, there's no reason you can't develop a social media manager job description that will have the right candidates flooding your inbox for a chance to publicize your brand across social media properties while building long-lasting relationships with key stakeholders.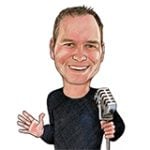 Shawn Manaher is the founder and CEO of The Content Authority. He's one part content manager, one part writing ninja organizer, and two parts leader of top content creators. You don't even want to know what he calls pancakes.