The best blogs are those that work within the framework of an overall industry. If you run an entertainment blog, for example, you want to make sure that everything about your blog is tailored for the world of entertainment. Things are no different for owners of a small business – except, perhaps, for the fact that a good small business marketing blog can make or break the business behind it. We've already had several weeks' worth of discussion about how anyone can set up a blog, but this week is going to be a bit different. Instead of speaking in generics, we're going to go over the steps again from the perspective of an individual who is setting up a new small business marketing blog. Everything we've discussed already still applies, of course, but there are subtle tweaks to some of the steps that we have used that can really help a small business break out of the pack and establish a dominant blog.
Domain Names, Titles and Hosting
In previous posts, we've discussed the importance of naming your blog from a branding standpoint. If you're in the business of creating a brand new blog or business, you absolutely have to go for a name that's going to stand out while still being relevant to your blog's content. If you're working on marketing for a small business, though, you've already got an existing brand – the name of that business. As such, a great deal of your work has already been done for you. You need to make sure, for example, that your website's title (and thus domain name) tie back to the original business. If your business already has a hosting solution and domain name, it's usually wise to have a subdomain for your blog. Great (and easy to remember) choices include www.yoursite.com/blog or www.blog.yoursite.com – both are easy to remember and keep your business' name at the forefront of the reader's mind.
If you're starting from scratch, always make sure that you go for a paid hosting option. I've recommend hosts like BlueHost in the past, and I stand by that recommendation for small businesses – not only does such a service give you a better sense of legitimacy in the online world, but the higher level of customer service and dependability is going to reduce your downtime and give you access to a more regular client flow. As a new or established business, you want to make sure that you give potential customers or clients the best chance possible to read your blog on their own schedule – not on the maintenance schedule of a less expensive, but less reliable, entity.
Configuration and Plug-Ins
Everything we've mentioned so far still applies to a small business marketing blog. Setting up WordPress is still your best way to create a clean and useful site, and choosing a minimalist theme that doesn't distract from your content is the best way to make sure that you can keep readers focused. A small business' blog might differ from the traditional blog by its attachment to an already existing main page, though, and it is important to make sure that you have some kind of continuity of theme between the two pages of the site – transitions should feel seamless and should help to reinforce the connection between your blog page and the other pages that offer your products and services. This is a huge reason why I advocate simplicity in web design – keeping things simple allows you to make a more cohesive look without requiring you to spend too much time worrying about aesthetics.
If you remember back to our discussion about blog plug-ins, you've already been shown five very useful WordPress plug-ins for your blog. These represent the three kinds of utility you really want for your small business marketing blog – safety, sociability and SEO. These five plug-ins will help you to back up your data (a major relief if you lose anything), keep your customers engaged and allow you to better position your site on search engine rankings. The way you design and maintain your site is going to impact how easy it is for customers to find you – and thus dictate how useful your blog is to your business.
Planning and Marketing
As the owner of a small business, you already know that planning is everything. Even more so than a typical blogger, you have to have a plan of action for your content. Always make sure that you know what's going to go on for the next thirty days on your blog, including not only who is going to contribute content but exactly how that content is going to help you with your sales or service goals. Your content needs to not only be evergreen enough to help make sure that your search rankings are positively impacted but specific enough to help you accomplish certain seasonal goals.
On the marketing side of things (likely the reason that your small business marketing blog exists), you're going to spend time working on SEO. The way that you've designed your site so far, the plug-ins that you've chosen and the way that you create your content will help your site to rank higher than those of your competitors. SEO is a game that you have to stay ahead of, so make sure that you keep up with the latest techniques (something that's quite easy to do if you frequent the TCA blog).
Running a small business marketing blog can be intense, but it doesn't have to be frightening. Follow the advice above and you'll be miles ahead of the rest. As long as you remember to put the blog to work for you in a way that's efficient and makes sense, you'll have no problem getting to the top of the heap. If you want to make that next great leap in efficacy, though, stay tuned for what's coming up – we'll be discussing the 20 best business blogs next week.
Our Series On Blogging

If you enjoyed this post, you may be interested in starting at the beginning with our special series on blogging. Follow the links below to get more detailed information and insight:

Are You Starting a Blog? Begin Here

How To Start a Blog — Domain Names, Content Creation and More

Hosting Your Blog — Make the Right Choice for Your Needs

How to Set Up Your Blog with WordPress

Are You Ready to Start Blogging?

Marketing Your Blog: A BASIC Guide
Do you have any additional tips for optimizing a small business marketing blog? Join the conversation below.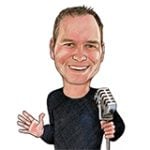 Shawn Manaher is the founder and CEO of The Content Authority. He's one part content manager, one part writing ninja organizer, and two parts leader of top content creators. You don't even want to know what he calls pancakes.