Much of the content we write here on the TCA blog falls under the category of inbound marketing. A quick search on the web yields dozens of definitions and guides to inbound marketing. This post will kick off a series of posts showcasing our own unique take on what inbound marketing is and why it has been so successful for businesses. We'll explore the tools used by the experts, and these posts can serve as a guide to inbound marketing for anyone that wants to use them.
What is Inbound Marketing?
Like I said, there is no shortage of definitions for inbound marketing. I have yet another one for you. After studying and writing about online marketing, development and usability for a number of years, I've come to understand inbound like this: as it relates to marketing a business, it is the practice of developing quality content that a target market finds useful, and that positions a brand as a helpful authority in its field.
Components of Inbound Marketing
Inbound marketing isn't just one tool, but an amalgamation of strategies and tools that businesses can use to market themselves online. There is really no limit to which tools can be used or in what way, and many different ones can fall in the realm of inbound marketing. These may include but are not limited to:
Social media sites like Facebook, Twitter, LinkedIn, Google Plus, Reddit, Foursquare, Vine, Instagram, YouTube, and others
Email marketing
Pay-per-click advertising
Video marketing/advertising
Search marketing/advertising
SEO or Search Engine Optimization
Forum Marketing
Article directories
Bookmarking websites
Crowd sourcing websites
A business's own website
This is by no means a comprehensive list. Inbound marketing is a relatively new phenomenon and is constantly evolving. Marketers are finding new ways every day to reach out to their target audiences and delight them with content.
Developing Your Strategy
Just like traditional marketing strategies, there isn't a one-size-fits-all with inbound. Businesses must assess their strengths and develop tactics that are complemented by those strengths. Below are some things to consider when developing an inbound marketing strategy.
S.M.A.R.T. goals (Specific, Measureable, Attainable, Realistic, Time-bound)
Buyer personas: characteristics of your target market
Content strategy and development: What will your content be and who will make it?
Having a well-developed website
Promotion: How will you spread the content that you generate?
Measuring Your Success
The M in S.M.A.R.T. goals is perhaps one of the most important. The proliferation of online marketing in the past 10 years has shown businesses that they can more closely track the results of the dollars they spend online.
Analytics
Tracking code provided by third-party companies is the most common way to gather data on your website. Note that these types of businesses only collect data on your site and not other properties that you may have a presence on unless you own and administer them (and have installed tracking, of course).
Most analytics programs are paid software packages. Some provide free service, but it is highly limited until you sign up for their paid versions. By far one of the most popular free analytics programs is Google Analytics. It is a powerful out-of-the-box analytics solution and also highly customizable. In addition to that, there are loads of free documentation, training, tutorials and no shortage of other free resources to learn how to use it. I highly recommend it for the beginner.
Here are some other programs you can investigate:
Click Tale
Get Clicky
Crazy Egg
Piwik
Fire Stats
Woopra
AWStats
Some solutions will allow you to use enough of their interface for free so you can get a feel for how they operate, and to see if you like them. The short list above is not all-inclusive, and there are many other mainstream and startup analytics platforms out there.
This post just scratches the surface of inbound marketing. There are literally hundreds of ways to market a business online, build brand awareness and track success.
What's your take on inbound marketing? Do you have your own unique definition? Let us know by dropping a line or leaving a comment below.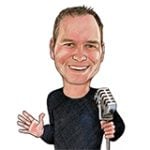 Shawn Manaher is the founder and CEO of The Content Authority. He's one part content manager, one part writing ninja organizer, and two parts leader of top content creators. You don't even want to know what he calls pancakes.