The Content Authority Gets an Extreme Makeover
Change is in the air at The Content Authority (TCA), as the company launches its dramatically redesigned website. This exciting upgrade has been in the pipeline for a while now, with TCA's development experts and internal team working fiercely to create an impressively advanced site. The result epitomizes professionalism, clearly reflecting the company's corporate culture.
First impressions count, and the new website makes a good one. Although many people resist change, it's an integral part of progressing to the next level. The good news is The Content Authority does it in style. We are not talking about a few tweaks here either.
At this point, you may be wondering why TCA undertook such an extensive transformation and how it affects you. To answer your questions, we need to start at the beginning.
The Evolution of TCA
Dismayed by a lack of service, missed deadlines, and inferior articles, TCA's founder and CEO, Shawn Manaher, took it upon himself to fill the gaping void in the content writing profession. Shawn's forward-thinking vision compelled him to establish a business that not only balances quality writing and competitive prices perfectly, but also excels at customer service.
Towards the end of 2009, The Content Authority entered the Internet Marketing and SEO industry with a bang. While most start-ups go bust within their first year, TCA exceeded expectations, quickly becoming a leader in content provision.
Meeting the need for a reliable business that offers an integrated marketing approach, The Content Authority incorporates several complementary services into its offering. Besides a Developer API, site users can expect to find a rewriting service and submission service that enhance productivity and amplify your online marketing success. These additional services have proved popular with thousands of Internet marketers, website owners, and bloggers searching for a simple, yet powerful content management system.
Over the last 20 months, The Content Authority has seen significant growth. This rise in production has stimulated the need for a website that caters to the ever-changing requirements of both clients and writers. With plenty of feedback from people who know the system best, including clients, writers, and TCA employees, the development team set out to create a brand new website that meets the needs of everyone.
An Enhanced Service
The vibrantly fresh look of the new website is appealingly professional and uncluttered. There are several additions in terms of features and tools, which make for an improved user experience. This includes a "Latest News" section for anyone who wants to catch up on the recent goings-on at TCA, as well as important announcements.
The streamlined features allow for maximum efficiency and easier navigation, which is exactly what you need when time is of the essence. The sitemap on the homepage lets visitors explore the site conveniently. This gives users the opportunity to gain greater insight into what the company stands for, as well as what the company does, and how it operates. It's also a fantastic way to learn about the people working behind the scenes.
The Content Authority's development team understands the importance of finding relevant information and practical tools quickly. As a result, the internal interface has been completely revamped, allowing site users to accomplish tasks promptly. Clients and writers should have no trouble adapting to the new look and feel of the site as they find the tools and features they have come to know and love.
As always, there are a variety of channels you can use to communicate with staff. In addition, you can follow TCA on popular social media sites, such as Twitter and Facebook. Connecting with the company via several platforms is an excellent way to network online. You'll also ensure you don't miss any significant updates if you don't visit the website for an extended period. Additionally, you can simply follow the site's link to the company's blog. You'll be rewarded with a vast collection of informative articles and tips to boost your online marketing success.
Putting You First: Commitment to Clients and Writers
Although the new website is entirely different from the original, TCA's commitment to writers and clients remains unchanged. In fact, the driving force behind the company is its unwavering dedication to providing the best experience possible. TCA will continue to focus on building stronger relationships, putting you first.
TCA has always fostered a sense of mutual accountability, keeping lines of communication open at all times. Rarely will you find a customer service and writer support team as friendly and helpful as the staff at TCA. The company is a firm believer in developing partnerships with its clients and writers, ensuring everyone plays an equal part in the business's success.
The site redesign nurtures the connection clients and writers have with The Content Authority, besides offering optimum functionality, accessibility, and flexibility. For writers, it's an online home where they are appreciated for their talents and acknowledged as more than a simple means to an end. For clients, it's a trustworthy source of quality content, and the one place they know customer service genuinely means something. Ultimately, it's a catalyst for solid relationship building.
Maintained Quality Levels and Ranking Victory
The Content Authority's main objective has always been to create useful services and products that help companies and individuals achieve higher rankings within major search engines. Based on the company's history, TCA has been incredibly successful thus far. It's a company that delivers on the expectations it sets. Staff will gladly go the extra mile, which is evident in the redesign of the site.
The importance of quality content, and what it can do for a business, is something TCA understands well. As search engines continue to place a higher value on the quality of content, the TCA team will forge ahead, maintaining the high level of quality clients have come to expect. The system has several key tools built into it, helping to ensure your search engine optimized articles will work for you.
The ability to achieve higher search engine rankings has always been there for the taking. The only difference is that it's now packaged a little differently.
A Flourishing Future
With its ability to adapt to fluctuating industry trends, The Content Authority looks forward to a prosperous future. TCA continuously listens to what its clients and writers want and need, making changes to its products and services as necessary. This ensures every process runs as smoothly as possible, propelling the company further into success at it meets organizational goals.
Armed with progressive thinkers, talented writers, and supportive clients, the company is clearly set to expand its service and product offering. The new website is merely the start of its dynamic approach to becoming the premier source for content.
When looking at the website's extreme makeover, one thing is blatantly obvious; the TCA team knows how to use the company's core assets and capabilities to their advantage. There is no doubt the development team will continue to refine the website, as well as the products and services on offer.
Have you explored The Content Authority's new website yet? What do you think of the changes? Let us know your thoughts in the comment section below, or you can check out our poll region to cast your vote.
[poll id="5"]
P.S. Don't forget to follow TCA on Twitter and Facebook for regular updates.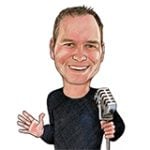 Shawn Manaher is the founder and CEO of The Content Authority. He's one part content manager, one part writing ninja organizer, and two parts leader of top content creators. You don't even want to know what he calls pancakes.