The explosion in popularity of eBooks has created a burgeoning market that does not seem to be slowing down. The explosion of eBooks has been helped in part by devices that make them easier to consume as well as clever marketing tactics. In the past, end users found titles they were interested in by going to a bookstore, a library or other means. Today, people take to the Internet to discover books that they want to read. Part of what makes those titles easy to discover is book metadata — the descriptive information about a book, its author, its publisher as well as other information. Not only is metadata important for discoverability of both physical and eBooks online, it is central to an effective marketing plan.
Metadata is simply information that is related to a book, such as author, ISBN, title, author biography, images and virtually any other piece of descriptive information. Traditionally, this information was used by publishers and their vendors; however, in the Internet age, book metadata has a new role. Rich, complete and abundant metadata helps buyers discover your books and learn more about them so that they are more likely to buy. Not having this information in even its most basic form means trouble from a marketing and distribution standpoint. Not having good metadata means selling fewer books.
Elements of Good Book Metadata
ONIX (Online Information eXchange) defines more than 200 different elements of metadata that can correspond to both physical and electronic books. ONIX is the international standard for representing book, serial and video product information in a digital form. Not all types of data apply to all kinds of books. The types of metadata that a publisher, distributor and/or printer require may differ. This being true, there is a core set of elements that are commonly found across many different types of titles. These are data that are essential for almost any book and required by almost any entity that will touch a title throughout its life cycle. Examples include ISBN, title, author, date of publication, publisher, content description, dimensions of a book, status code of the publisher and usually a digital thumbnail for the cover of the book.
Book Metadata and SEO
There are two distinct types of metadata: data used for physical books and that used for the discovery of eBooks in a digital space. Whether you are selling eBooks online or physical books (or both), comprehensive metadata is important for SEO. As recently as February of 2012, over 73% of Americans used a search engine to discover something online. During any given day in 2012 more than half of Americans were using a search engine. In case you couldn't tell, making your title discoverable in search is key to making sales, and SEO for your eBook can help make that happen. Book metadata that is complete, detailed and full of useful information ensures your title will get found and get purchased more often and more rapidly.
When search on the web first hit the scene, engines were not the highly intelligent logical giants that they have become today. Search algorithms relied heavily on signals that could be manipulated easily. It is estimated that Google alone has put more than 1,000 person-years into perfecting its own search algorithm, and other competitors are also very advanced. It is more important than ever for marketing books online to have rich metadata that search engines can latch onto and serve up to users looking for specific authors, titles, genres or other pieces of information that may relate to the content you have out on the market.
Making Your Book Metadata Stand Out
When a writer first composes his or her masterpiece, there is a lot of data that simply isn't available. Once a title starts to move through its life cycle through publishers, printers and other vendors, more and more data gets added. A title may get an author biography added, it may win awards, perhaps reviews get published about it or any number of other occurrences that can enhance metadata even further. Once added to a specific title, this extra data can help it stand out to end users who may be interested. It can help increase the discoverability of the title in search and create a more enticing description for those who may be interested in purchasing it. For example, users may search for reviews or author biographies before deciding to buy a specific book online. They may look for awards or environmental information about the title. The more data that is available in a virtual space, the better.
In the physical world, even without visual cues, we can often touch and hold objects that we plan to purchase. Books are no different, and in a virtual world, metadata acts as a placeholder for our senses that we would normally rely on to help us make decisions. When authors can provide as much data about their titles as possible, end users can make more informed decisions about the books they plan to purchase.
Have you seen a difference in providing more vs less metadata in terms of book sales online? How has metadata helped you market your books online? Be a part of the conversation by commenting below.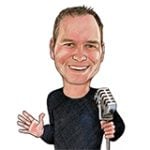 Shawn Manaher is the founder and CEO of The Content Authority. He's one part content manager, one part writing ninja organizer, and two parts leader of top content creators. You don't even want to know what he calls pancakes.