Google Analytics is a sweet platform and I often forget that there are a lot of other tracking programs out there. Recently, I was given the chance to check out what HubSpot has to offer, and I was pleasantly surprised at some of the strengths it has over Google.
HubSpot vs Google Analytics
To be fair and avoid comparing apples to oranges, HubSpot's product is a paid solution (where Google's is free), and they have a much different objective for their customers. Some features can be compared, but others can't because Google simply isn't marketing their tool to perform the same kinds of tasks. For example, HubSpot provides a lot of tools to help marketers accomplish conversions and engagement, whereas Google Analytics does not have those features. Ecommerce features in HubSpot focus on managing contact lists and gathering data on contacts that sign up through forms. Google does not have these features; however, they don't market the tool as being able to perform these tasks.
With that out of the way, both platforms do offer website tracking features. Here are some of the things that I noticed:
The first thing that strikes me with the HubSpot interface is the focus on accomplishing end goals. Data is displayed in a way that gives marketers an idea of how the activity on their website is helping them accomplish their marketing goals. With Google Analytics, the data is sort of just, well, there. It's up to the user to interpret it or to apply it to a business goal.
Case in Point…
The Conversion Assists Report in HubSpot Analytics
HubSpot has the conversion assists report, which shows you which pages assisted in creating a conversion. This is set up by default, and requires no configuration on the user's part. This is also a common metric that business owners want to see. We want to know which pages caused people to buy our products or sign up for something.
In Google Analytics, you can see this information, too, but you have to configure goals or just dig through reports to see the visitors flow through the website. That latter strategy is almost impossible, sometimes. At any rate, it requires a lot of extra effort.
A Friendlier Interface
The HubSpot interface is a little easier to digest than Google's. If you aren't a heavy Analytics user like me, reports in Google's program can be a bit dizzying. There are a lot of numbers and graphs and fewer images and buttons.
If you look at the sources report, for example, in HubSpot, it's very clean and dumbed down a little compared with the information in Google Analytics. All of the navigation is up and out of the way at the top of the screen so you don't get confused. Color-coded icons make the different sources easy to remember, and overall, there is just not too much going on. The export feature is super easy to find (hello big, blue button!), and the chart is also much more appealing.
Conversely, the Google Analytics report is very busy. On the plus side, there are far more metrics related to traffic, but from a usability standpoint, it is easy to lose yourself. Google Analytics, however, has far more options for tracking; they include filtering in reports, adding secondary metrics, advanced segments, and the ability to compare current and past data. In a nutshell, the data is harder to interpret in Google Analytics, but far more comprehensive.
Competitors Report
A notable feature in HubSpot reports is the competitor analysis. It allows users to enter in names and other information on competitors, and then generates useful information about them. For instance, you can see SEO-related information like number of indexed pages, how many domains are linked to them and their number of social media followers — all features not available in Google Analytics.
Page Performance – SEO Reports
Analytics gives some SEO-related reports; however, there are some caveats to this. In the sources reports in Analytics, you can view keywords that people are using to find your pages, but default metrics are related to time on site, bounce rate, pages per visit and other basic metrics.
HubSpot, however, has some pretty cool SEO reports. In the Page Performance reports, you can click on metrics related to keywords and find average search volume, on-page SEO ratings, number of inbound links and average rank in SERPs. There is a cool tutorial from Justin Cutroni on how to install custom code to learn the average rank of your pages in SERPs, but it takes a level of technical knowledge to install and interpret.
There is obviously much more to each of these platforms. Some features can't really be compared from an overall perspective. Google Analytics is highly scalable and flexible with tons of documentation for adding functionality to tracking. HubSpot is geared toward measuring marketing activities related to promoting a website through content and engagement (which Analytics isn't). I guess if you had to make a decision about how to track your website and you were interested in HubSpot, I would use both. The HubSpot platform gives you much more comprehensive and easy-to-read information related directly to content marketing. The data is also presented in a much more refined way.
In terms of reporting on visitor behavior, Google has HubSpot beat hands-down. They simply provide a very detailed level of information and many opportunities to manipulate data to find out what you need to know. The data from Hubspot is somewhat limited, and what you see is pretty much what you get. Analytics aside, if you are serious about tracking your social media and content initiatives, HubSpot is the way to go.
Have you ever used HubSpot or Google Analytics? What are the strengths you have found in one over the other? Let us know by dropping a line or leaving a comment below.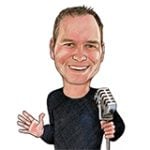 Shawn Manaher is the founder and CEO of The Content Authority. He's one part content manager, one part writing ninja organizer, and two parts leader of top content creators. You don't even want to know what he calls pancakes.