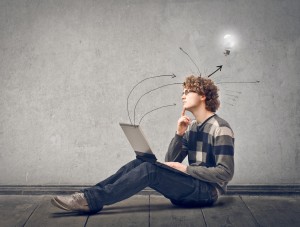 You've done your research on how to write an eBook, but have you really considered every element of content that can be found between your front cover and your back page?
The chances are you may have missed a thing or two. There's a lot to think about during the planning and writing phases of eBook creation, so it's common for something to slip through the cracks. To help you keep track, we've made a list of 17 vital components you should think about while creating your eBook.
1. Title Page
It's simple but significant. Your title page consists of your eBook's title, subtitle (if there is one), and your author name. Although it sounds like a waste of space, it's really not. Besides reminding readers of the book they've downloaded, as well as who wrote it, the title page provides a buffer between the cover page and the information you include directly after it.
Most importantly, this component sets the book's visual tone, making design a huge factor here. Whether you select a classic, formal, stylish, or minimalist design will depend on the look and feel you hope to create. Play around with font styles, sizes, color, and text positioning until you achieve the title page you want.
2. Author Bio
Building your author brand and implementing a pre-launch marketing strategy is the ideal way to go. You'll not only have an established group of qualified prospects eager to grab a copy of your book, but these fans and followers will also have insight into the person behind the brand. As a result, there'll be immediate recognition and trust when they land on your author page.
Unfortunately, the same can't be said for readers who stumble upon your eBook rather than discovering it through your blog, social media, email, or other marketing initiatives. Therefore, incorporating an author page is a great opportunity to make that initial introduction and establish a connection. It's also an excellent space to note your expertise and build your credibility as an authority on the book's topic.
Tips for designing an outstanding author page:
You're not divulging your life story so keep the text a reasonable length.
Highlight factual, relevant, and interesting information to entice readers to seek you out on other platforms.
Include your website, social media, and contact information to help readers get in touch easily.
Add a professional headshot to improve recognition.
3. Copyright Notice and Disclaimer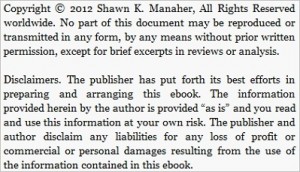 Do you balk at the sight of legal jargon? You wouldn't be the first author, and you certainly wouldn't be the last. Legal matters can be a sticky business, but the reality is you have to protect yourself and your work. Imagine the horror of finding your blood, sweat, and tears on the site of someone claiming your content as their own. The good news is you can limit this type of nasty surprise and dissuade people from stealing your work.
Although copyright notices and disclaimers vary in terms of wording and the type of information included, they help you assert your rights and limit liability. They also look professional, which is crucial for self-publishers building a professional image. If you're not sure how to create a copyright page, look for examples and fill-in-the-blank templates online.
4. Acknowledgements or Dedications
If you've been helped along the way, a page honoring the people who have supported you is a great way to show them thanks. A short note to express your gratitude goes a long way and demonstrates that you don't forget the individuals who have contributed to your success.
5. Foreword
Usually written by an established author, expert, or celebrity, a foreword can help put a stamp of approval on your work. In addition to boosting your credibility, a foreword tells people why they should read your book. This piece of content is optional so don't panic if you can't get a well-known figure to provide this type of endorsement.
6. Preface
A preface is simply an explanation of why you chose to write the book. It's the perfect area for providing further insight into your experience and expertise for dealing with the topic at hand. Again, this is an optional item.
7. Introduction
An introduction helps set the overall theme of the book, explains methodologies you may have used, highlights the benefits of the content contained within, and outlines the purpose and goals of your writing. When done correctly, introductions define how you want readers to view your book.
8. Table of Contents
This essential component shows there is organization to your book and that readers can easily find what they need. Often, especially with non-fiction books, a reader will skip back and forth to find relevant information. A table of contents saves time and eliminates unnecessary frustration by providing a page reference for each chapter.
A tip for designing a great table of contents:
Hyperlink each chapter outlined on this page to the relevant section of the book. This improves navigation and makes your eBook user-friendly.
9. Chapter Title or Section Pages
While you can simply slap the chapter title above the opening paragraph and call it a day, there's a far more creative and visually appealing way to go about it. Consider using title or section cover pages to mark the beginning of a new module clearly. This gives readers an indication of the content covered next and helps break the book up into digestible bits. Graphics and relevant pieces of data offer a great way to spice up these pages and keep readers engaged. Keep in mind that you want to link back to these pages if you're using hyperlinks in your table of contents.
10. Callouts
Callouts typically include tips, quotes, snippets of research data, subtle product mentions, and other pieces of micro-content. They stand out from the main body of text and keep things interesting. They're often presented as speech or thought bubbles, highlighted using different font sizes, colors, and styles, or set apart using other visually appealing elements.
Tips for callouts:
Don't be afraid to use callouts as a way to create awareness about relevant projects or features of a paid product or service you offer.

While they're a great addition to educational eBooks, don't overuse them.
11. Links
The great thing about eBooks is they're becoming more interactive as technology develops. With a simple click on a link, readers can discover a wealth of content that provides additional information or supports the contents of your book.
Tips on links:
Try not to link to content you cannot control.

Schedule checks to ensure your book doesn't contain any broken links.

If necessary, update your book with links to newer sources of information.

While links should be designed for usability they should also be attractive, so pay attention to style.
12. Visual Components
Everything from graphs, graphics, and screenshots to charts, bullets, and text typography form part of your eBook's visual component. These elements break up large chunks of text, offer a way to explain complicated ideas visually, and make consumption of your content easy. If you're creating eBooks for your business, make certain you follow your company's brand style guide.
13. Headers and Footers
While your header and footer content will depend on the publishing format you choose, they're aspects you still need to consider. When supported by e-readers and other devices, your header and footer can benefit from page numbers and chapter titles.
14. Social Sharing Buttons
Make it easy for readers to promote your work on social media sites by adding social sharing buttons to the pages of your eBook. When they come across something they love, they'll more than likely share your book with their networks. Make certain the link leads to a relevant landing page with a lead-capture form.
15. Blurb
You know that promotional description you'll use to convince and convert in the first place? Well, it's a good idea to slot it in at the beginning of your book. The reason being is that many people don't read the books they download immediately. In fact, your book could sit on someone's Kindle or iPad for months before they even look at it. Including the blurb in your eBook is a great way to remind buyers about the book's contents without them needing to search for the information online. They'll thank you for the convenience.
16. Footnotes, End Notes, and References
Whether you're commenting on the same page or citing a source at the back of your book, this type of supporting content is crucial to your credibility. Although many people ignore references, there are those that follow up and explore research data for themselves.
17. Call-To-Action
Whether you're the owner of a company or simply an author, you're in business. When you're in business, it stands to reason you don't want the relationship to end once the final word has been read. A compelling call-to-action can ensure readers remain with you long after they've put their e-reader down and turned off the lights.
Tips for a CTA:
If you have other eBooks or relevant downloadable content to share, consider including mini versions of their covers in the back of your book and linking to their relevant landing pages. If your readers like this book, the chances are they'll like the others.

Ask readers to subscribe to your blog and connect with you via social media platforms.

Depending on your line of business, you may want to offer a free trial period or invite readers to join classes and discussion groups.
Ultimately, your eBook is what you make it. It can be a roaring success or a depressing failure. While the former doesn't require you to integrate all 17 content and design components into your eBook, it does mean you need to think about improving the marketability of your offering. Many of these components can enhance an eBook, making a boring topic tolerable and a great topic spectacular.
Like our blog? Subscribe!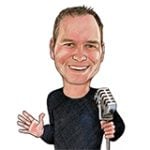 Shawn Manaher is the founder and CEO of The Content Authority. He's one part content manager, one part writing ninja organizer, and two parts leader of top content creators. You don't even want to know what he calls pancakes.