It's really easy to get distracted when optimizing a website. It doesn't matter if it's a new site or if it's a site that needs to be audited. Unless it's only one page, there is generally a lot to do. And what happens when you have a lot of tasks to do? Easy — you make a list. An SEO checklist can help you prioritize the tasks that you need to accomplish during a technical audit, save you time, keep you organized and maintain your sanity.
What is a Technical Audit?
*Disclaimer: If you're already familiar with what a technical audit is, feel free to take inspiration from the SEO checklist below.
A technical audit (as it relates to SEO) is a thorough investigation of the optimization (or lack thereof) of a website. Things like inbound links, content, layout, navigation, keyword placement, site speed and a host of other elements are scrutinized to ensure they are done correctly based on the goals of the website.
Prioritize Your Pages
Download all of your URLs into an Excel file
Identify the ones you want to work on first. These should be the most important ones. Maybe they are the pages that are most traveled on your site, or the least traveled, or the ones that make you the most money. Decide what your goals are for your website, then choose the pages to work on first based on those goals.
Analyze Your Content
Does each page have a target keyword phrase and related variants?
Are the target keyword phrases in headers on the page?
Are the target keyword phrases contained in the copy of the page with an appropriate keyword density? Note that there is no definitive rule for keyword density but somewhere in the 2-3% range is good enough.
Is the content lengthy? Your content should not be too thin. Make sure it is greater than 400-500 words in length.
The site is free of duplicate pages wherever possible. Note that some duplicate content is unavoidable like certain legal disclaimers for product pages. For the most part (and as long as spamming isn't the motive for this), you shouldn't have to worry.
Keywords are contained in copy and in header tags above copy
Text is broken up using images or video
Text is configured in a way that makes it easy to read, such as in short paragraphs or in ordered/unordered lists
Ads on the page are in smaller proportion to content
There should not be too many ads above the fold of any given page (ideally, you should have one)
Canonicalization
There is some method for canonicalization of pages in place whether it be the

rel="

canoncial

"

tag or some kind of plugin for a CMS or a line of PHP code in the header of a page
The Site Must be Accessible by Bots and Humans
Do you have a robots.txt file? If so, it must be configured to allow search to index the appropriate pages.
Links and content remain present and working even with Javascript, CSS and cookies turned off
There should be no presence of cloaking
If you are using a CMS or have some other kind of plugin installed, ensure there are no third-party URLs in the header of your website. These can cause issues with bots accessing a robots.txt.
Flash objects have text or html elements in them
Analyze Your Infrastructure
All pages have a meta description with a target keyword in them
Meta description has compelling language and adequately describes the page that it applies to
All pages have a title tag with a target keyword
The target keyword phrase front-loaded into title and meta tags (i.e. does it come first or near the beginning of the tag?)
Meta robots tag present and not inadvertently blocking pages
If applicable, title tags contain branding
Check for Indexed Pages
Use the site:operator in Google, Bing and Yahoo search. Are pages of the site indexed? Are there fewer than there should be?
Do you see pages that shouldn't be indexed?
Are there old URLs that no longer work?
Technical
The pages of the site load fast
Redirected pages are using 301 codes if they are permanent and 302 codes if they are temporary
Redirects are pointing at similar pages
Important content is not rendered using Flash
Important content is not rendered with the use of iframes
An XML sitemap is present on the site
External Measurement Services
The site has been submitted to Google and Bing Webmaster tools
There are no errors or other issues as reported by these services
Inbound Links
Inbound links are from reputable websites
There is no evidence of spammy link-building tactics (for example, a disproportionate number of exact-match anchor text links to more natural-looking links, disproportionate number of no-follow links to do-follow links, links coming from sites that are known for or appear to be link sellers among other red flags)
The majority of inbound links come from websites that are similar in niche to the website being audited
Internal Linking
There is a clear website hierarchy, meaning the home page links down into category pages and category pages into sub-category pages. Category pages can link to similar category pages.
Any given page is no more than five levels away from the home page
Content is linked to other relevant content that helps users discover more useful information on the site
Appropriate anchor text is used to link to other content internally
There are no broken links
Content Quality Review
Whether you are reviewing pages for search engine optimization purposes or not, the quality of your content should still be a priority. Poorly written, poorly researched or error-ridden content causes visitors to lose faith in a website. This could cause a visitor to avoid making a purchase or to leave a site entirely.
Articles and other content should be free from spelling and grammatical errors
Paragraphs and headers should be properly formatted. Content should be easy to scan and broken up with images or other larger elements.
Content should be well-researched and accurate. No matter what your content is about, it should be authoritative and something people can rely on. Inaccurate content makes people lose trust in a website and/or a brand.
Does the content have good internal linking? It's always good to link relevant portions of content to other relevant pages on your site. Not only does this help PageRank flow freely within a site, but it helps visitors find other content that may be of importance to them.
Is your content useful? This may be sort of subjective depending on what niche you are operating in; however, in general, all content should have some purpose. If your content is just a bunch of fluff or useless jabbering, it's better to not have the page be present at all.
Is your content well-researched? If you are an authority on a subject or trying to become one, it is important to offer data or other resources to back up anything that you say. This not only builds your credibility, but can create other SEO opportunities. Go to as many sources as you can in order to get good content for your readers.
SEO changes on a daily basis, so this checklist may not always be complete. Invariably, there may be things added or elements that aren't as important as they were before.
What processes do you go through when auditing a website? Does having a checklist help you in your activities? Let us know by dropping us a line or leaving a comment below.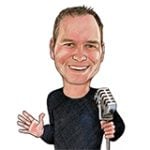 Shawn Manaher is the founder and CEO of The Content Authority. He's one part content manager, one part writing ninja organizer, and two parts leader of top content creators. You don't even want to know what he calls pancakes.