They're strewn across the Internet: horrid blends of low quality graphics and typographic train wrecks that scream, "Self-published!"
When your cover shapes a potential reader's first impression, that's not exactly the image you want to create. Follow along as we look at several critical aspects of eBook cover design, as well as what creating a memorable image entails.
What Makes a Good Cover?
Becoming a self-publisher generally means you need the mental agility to transition from the role of an author to the role of an entrepreneur. You're no longer wearing the hat of someone concerned with the elements of effective writing, but rather the hat of someone concerned with the development of a marketable product. Before, you were able to leave the business decisions in the hands of a publisher. Now you are the publisher, so you need to start thinking like one.
What's most important to understand in this role is that your book's cover is your product's packaging. It's the tool that forms part of your market positioning and advertising strategies. It's what you'll use to differentiate, attract, promote, and facilitate the purchase decision.
With that said, it's imperative to learn the core functions of a compelling cover so you can collaborate with a professional effectively, or design a powerful one yourself.
Consider this your eBook cover design checklist if you will:
A great cover stands out in search results
It alludes to the book's genre
It persuades browsers to give it a chance
It sets the tone or mood for the content found within
It's as memorable as the book itself
It helps build a brand for a business, author, or book series
It hints at the quality level of the writing
While this list is by no means comprehensive, it does provide a solid guideline for the type of cover you should create.
So, what should you think about while developing the concept for your design?
What the Thumbnail Display Will Look Like
When the thumbnail is all a potential buyer may see while searching for books like yours, you want to ensure the smaller image is clear, legible, and has the desired effect. Consider these two examples where the thumbnails meet the relevant criteria.
Now assess these thumbnails:
Although the intricate font on the top cover may look beautiful on a larger scale, it's almost indecipherable on a smaller scale. In addition, the thumbnail relies heavily on the graphic to tempt prospects to click through to the product page. There's no denying the cover has to work harder here.
The bottom image is a little more confusing than the top example. The typeface is hard to read on both the small and large scale, which means the publisher probably relies on the accompanying links and product description to communicate the title and author information. The other thing you'll notice here is that the white background of the cover dissolves into the white background of the Amazon.com site. This is a design no-no since it takes away from the impact of the cover. Consider using a textured or color background to make your book more noticeable.
Whether Your Print and Digital Designs Will Differ
You may be under the impression that one design needs to fit all. Nothing could be further from the truth when it comes to book covers. Have a look at these examples:
The top two covers were designed for print while the bottom two covers were designed for digital platforms. Now have a look at the differences and similarities between the covers. Assess the style, typography, use of space, and images, and then evaluate them against the criteria for a great cover.
While the print covers are the same in terms of the typefaces and font sizes chosen, the images are very different. The eBooks, however, appear to follow a format or brand style guideline set out for the author's digital covers.
Whether You'll Use a 2D or 3D Design
Look at these two 3D renderings and then compare them to the John Grisham covers.
You'll notice there are some stark differences between the look and the feel of the images. While the 3D covers offer a unique presentation, the 2D designs display the graphics and typography well. The flat covers are also easy to read, which is crucial for prospects taking in the eBook's key information at a glance.
Many marketers and authors choose 3D designs for their non-fiction and info product eBooks, but you'll only know which cover is most effective if you test your market. Think about polling your blog readers and social media followers to help you narrow down your options. Keep in mind that some distributors do not accept 3D cover art submissions.
Whether You Want a Ready-Made or Customized Cover
There's something to be said for readily available eBook cover designs. They're cheap, they demand little effort other than some minor copy changes, and they can save you from a DIY nightmare. They're also a great alternative if you need to publish in a hurry.
On the other hand, professional illustrators and graphic designers know what they're doing. They have the talent, experience, and tools necessary to translate your text into a visual masterpiece. They've perfected their craft, they're familiar with the tricks of the trade, and they know what questions to ask in order to deliver the best results. Essentially, a professional can take a cover that shouts, "Self-published!" and covert it into a cover that persuasively whispers, "Read me."
There's a lot to weigh up here—and much of it will come down to your budget—but you need to decide whether you're prepared to foot the bill for a trained eye or take a risk on an off-the-shelf design. When purchasing a ready-made cover, be sure to evaluate it based on relevancy, mood, and visual appeal. It should attract your target audience and enhance your author brand.
(Looking to self-publish your book? One great option is Smashwords for self-publishing.)
How You'll Leverage Your Color Palette
If you're familiar with color psychology, you know that colors can influence an individual's purchasing decision. It's a good idea to learn the basic positive and negative emotions each color can trigger and then use that information to guide your color choice. Most of the time, you'll find the right palette through experimentation. Therefore, you should create several mock-ups and then test them out on people you trust to provide honest feedback.
Tips:
Limit your palette to 3 colors or less
Use colors that complement each other
Experiment with different shades
If you're creating eBooks for your business, consider applying your brand colors
Whatever you do, make certain there's a good balance. Colors will change according to the device being used to view the book, so take that into account when making your decision.
What Dimensions You'll Use
The distributor or online retailer you select will determine the size requirements for your cover art. Each provides design guidelines and file-size specifications, so make certain you adapt your cover accordingly. Since the dimensions aren't necessarily set in stone, you may need to play around with your image until you achieve the right look.
Also, take into consideration that your cover doesn't necessarily need to be the ever-popular rectangle.
When done correctly, a square cover can work just as well.
A Word on Animated eBook Covers
Although this may make purists weep for the future of publishing, the reality is that animated eBook covers are slowly making their way into the marketplace. While most platforms don't support animated covers just yet, you can fully expect the next generation of eBooks to capitalize on this technology.
As this trend gains momentum, you should think about the possibility of incorporating this strong media element into your design. Once again, you want to test the market to ensure it truly enhances your cover and contributes to higher sales. Keep in mind that there is a huge difference between tasteful and tacky, so don't overdo it if you choose to go in this direction.
Since your eBook's cover design is essentially art, it's appeal is mainly subjective. Although you may think it looks great, it might look like a confusing mess to buyers. Take the time to study the covers of books in your genre and learn the conventions of great design. Stay away from overused stock photos and enlist the help of a professional designer if you have the budget. Keep it simple, make it relevant, and position it within the marketplace properly.
Do you consider these factors when working on eBook cover design concepts? Perhaps you have a pressing design question you need answered. Drop us a line below.
Don't forget to subscribe!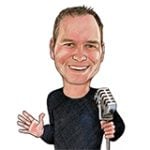 Shawn Manaher is the founder and CEO of The Content Authority. He's one part content manager, one part writing ninja organizer, and two parts leader of top content creators. You don't even want to know what he calls pancakes.