Affiliate Marketing Can Be Rewarding With Hard Work, Patience And Consistency
Affiliate Marketing is a method of promoting other people's products and services for a commission. The ideology is simple but not easy to implement. It takes time, patience and consistency to earn a living from the internet. However; success is possible with the right tools and mindset.
Adopt A Realistic Mindset
Successful online marketers start with a plan and follow through relentlessly, day after day. They apply various techniques and methods to attract and entice visitors to perform an action. This process leads to sales and ultimately your commission check. Never assume that you will go from rags to riches in one night, a week or even a
month. Most affiliates will see results within a six month period. Affiliates learn through trial an error. A positive but realistic mindset will ensure success.
Avoid Shiny Objects
The methods involved in affiliate marketing can quickly overcome an individual. There is a wealth of knowledge and info-products floating in cyber-space. Some of the information is necessary and will be an extension to the learning curve. However; some of these products are misleading and useless. Furthermore, it's almost impossible to
separate the good material from the bad. Purchasing unnecessary products can cripple or hinder your progress. Do not get distracted by shiny objects that promise instant results. Stay focused!
Set A Reasonable Budget
Affiliate marketing does not have to strain your finances. Setting aside a sensible, monthly allowance, is the best way to keep track of your expenses, minimize your losses and maximize your earnings. Keep your purchases to a minimum in the beginning and only buy the essentials like a domain and web hosting. Do not go bankrupt before
you even start. Invest in your business wisely and stick to the plan.
Make It Personal
The more you invest in a promotion or advertising campaign, the more likely you will succeed. Reaching out to your visitors on a personal level will build trust and long-term relationships. This can be daunting to some, but if you persevere, it will pay in the long run. Act as-if this was your own product. Put yourself in the shoes of the
consumer an address their needs and concerns. Customers are more likely to purchase through your link if they trust your opinions and authority.
Consistency Is Key
Consistency is the key to a successful online career. Always start by creating a plan and breaking it into actionable steps. Most beginner affiliates have full time jobs outside of the world wide web and need to use their time efficiently. Furthermore, completing a few tasks every day will give you a feeling of accomplishment. Set aside an at least an hour everyday to complete your tasks and keep all irrelevant windows and tabs closed. This includes your email.
Rinse and Repeat
Once you've learned and consistently applied all the methods of affiliate marketing, you need to repeat the process. You can create multiple websites targeting a different niche website. It's up to you how much or how little money you want to earn. There is no limit on what you can accomplish online. If you keep your plan simple and to the
point, it's easy to duplicate the process. Just remember to follow through on every new project.
Move On
Duplicating your efforts does not always guarantee success. Some websites fail to produce any income at all. In these instances, it's best to drop them and move on. There is no point in dwelling over an unsuccessful site. Time is not on your side so you need to keep moving forward.
Successful affiliate marketers are positive yet realistic. They apply a solid methodology that attracts and builds consumer relations over time. They offer unique and helpful content to engage their visitors. They spend their money wisely and invest accordingly. They rinse and repeat the process in a variety of niches. Some markets are successful and others fail miserably. Above all, they are focused and consistent.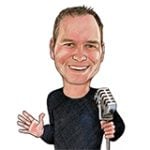 Shawn Manaher is the founder and CEO of The Content Authority. He's one part content manager, one part writing ninja organizer, and two parts leader of top content creators. You don't even want to know what he calls pancakes.