SEO is great for driving organic traffic to a website, but sometimes you just need things to happen faster. Pay-per-click advertising is a prime way to do that, and one of the best platforms is Google AdWords. It's a sure-fire way to get targeted traffic fast. Hold on a minute, though. Just because you pay for ads does not mean you will have instant success. A little AdWords optimization is necessary in order to get the most out of your advertising dollars. Since there are so many different PPC platforms to advertise on, optimization is not a one-size-fits-all deal. So without writing an encyclopedia on the topic, I'll attempt to provide some proven tips to optimize a variety of different PPC campaigns.
AdWords Optimization
Google has greater than 60% market share, and its platform is thought by many to be second to none. If you are looking for highly targeted traffic that is ready to buy, this is the place to go.
Highly targeted keywords, adgroups and landing pages: This concept is fairly simple, yet many people miss the target when starting out with AdWords. If you think about how Google's advertising works, you will understand why having keywords that are relevant to ads and landing pages makes all the sense in the world. When you enter keywords into the AdWords interface and associate those keywords with ads, you are telling Google, "These are the ads I want you to show when these words are typed into your search engine."
Case in point: I like to buy car parts online, and I rely on Google a lot to find what I'm looking for. So I hop online and look for a very specific phrase "Jeep window motors."
Excluding the highly relevant Google shopping results for my search, the ads on the right column of the page are as follows:
Note the ad in the first position (after Google shopping results). Nowhere in the ad text can I find what I'm looking for. Yes, the word "Jeep," which is the first part of my query, is present, but the meat of what I'm looking for is absent. Needless to say, I'm not clicking on that. The second ad follows the same theme; there's nothing relevant to my query. The third and fourth ads, however, are starting to get the picture. I like 1aauto.com's reviews, and they have most of the words I'm looking for in their ad, so I click and I am brought to this page:
For AdWords optimization or tweaking of any PPC campaign, the landing page is key. This is not the best landing page I have ever seen, but they have done some key things very well. Notice that the same text that compelled me to click on the ad (i.e. window motor) is also front and center on the page. This lets me know I've come to the right place. I was looking for Jeep window motors and this site is about to show me what they have in the way of window motors. Simple, right? It looks like I'm in store for some cumbersome vehicle identification steps, but to their credit, my query did not specify a model, just a brand name.
Well, maybe I want to check out another site before I commit to this one. So I back out to my search results and I click on the last ad pictured above for advancedautoparts.com. The ad doesn't have my exact keyword phrase, but it does have one key term, "window," and the word "parts" suffices for my purposes. After all, I am looking for car parts. This is the page I am brought to.
Oh, wait a minute — did I click the wrong ad? I back out and click again. Nope, this was the right page. Not a keyword in sight that has to do with windows, Jeeps or motors. I see they have free battery testing and that they are running a promotion, but I don't see any window motors or even a hint of where I might go to find what I'm looking for. It is an auto parts website, but now what I'm thinking as a user is, "great, now I'm gonna have to dig around in here to find what I'm looking for."
The whole point of this exercise is to shed light on the fact that if a business is trying to get its prospects to do something specific (whether it be filling out a contact form, signing up for a newsletter or buying a window motor for a Jeep), they need to make that process as simple and unambiguous as possible. People will muddle through if they really have to, but if they are not that invested, they can just as easily back out and start the process over on another website. The more obstacles you put in place (or fail to remove) throughout your conversion funnel, the less likely people are to finish it.
AdWords Optimization: Searcher Intent
In order to avoid low click-through and conversion rates, you must optimize your campaigns and landing pages for your specific goals. Starting with your ad campaign, you will want to place keywords that are similar in the same group with their associated ads. With AdWords, it's easy to feel like you may be missing out on something if you don't add every keyword under the sun that could relate to what you are selling. In fact, the more keywords you add, the less targeted your campaign becomes and the less likely it will be successful. Focus on a narrow set of related keywords. For instance, the following phrases could be combined into the same group:
Jeep window motors
Buy Jeep window motors
Jeep window motor
Cheap Jeep window motors
Your ad copy might look something like this:
It would be tempting to include phrases like "install Jeep window motor," "Jeep window motor manufacturers" or "diagram of Jeep window motor" in the list above; however, this would work against you. These phrases talk about the same object (i.e. window motors), but they are different in terms of intent of the searcher. Those using the phrase "install Jeep window motor" may be looking for a tutorial on how to put one in their Jeep and not to buy the product. Those using the same phrase with the word "manufacturers" in it could be looking for a variety of things like information about a specific company, warranty info or even a job.
AdWords Optimization: Ad Copy
Your ad copy must contain the keywords that you have associated with your account. Not doing so can affect your quality score and can also increase your ad spend. Aside from these elements, the way text is written in your ad can also affect its success. Notice in the example above how the first line (the header) has the exact keyword phrase that is dominant in the keyword group. This is a good place to put your keywords because headers are emboldened when shown on SERPs (search engine results pages). The second line of your ad should have your value proposition. In my example above, this isn't the most enticing proposition, but you get the idea. Explain in a few words why clicking this ad will deliver what the searcher is looking for. Notice also the line at the end that reads "contact us today!" This is known as a call to action, and every ad should have one. It doesn't matter what it is, but you should write some short line that tells the reader to act.
These small tips can do wonders for a campaign that is struggling, and can set you off on the right foot from the beginning. There are also numerous sources for AdWords optimization information out on the web. Google's AdWords help center is a good place to start. You can even study for their certification exam there.
Optimizing Facebook Ads
Much of the information already stated applies to various forms of PPC, but there are some little differences between networks. Unlike AdWords optimization, you won't be using keywords to target your market on Facebook. Instead, you will have access to the vast amounts of demographic information that Facebook has gleaned from its users in order to target ads to them.
It should be noted that advertising on Facebook (if you are accustomed to search advertising) is quite a different experience. Click-through rates tend to be much lower because people's intentions on social media sites are different than on search engines. For instance, people go to search engines in order to research purchases or actually find things to buy. The same cannot be said for social media and for Facebook.
Some tips for getting the most out of your ads
Images are important: Unlike search, you have the opportunity to leverage images much more on Facebook. If you are a company advertising, try to find an image that relates to your message, but that is also compelling. It has been found that images of happy, attractive women can increase click through rates. Colorful logos are often more enticing than images of machinery or logos that follow the same color scheme as Facebook's platform .
AT&T follows this strategy effectively in their ad for Internet services:
Notice that they don't use images of modems or broadband lines or anything that has to do with Internet. They use an image of a happy little girl with the headline "Share precious moments." This makes the ad much more compelling than it would be if there were a picture of a computer accompanied by text reading, "buy our Internet service today." The ad tugs at the notion that people like to share the fun moments in their lives online with their friends and doing so easily requires good Internet.
Compelling ad copy: In search, ad copy is really a no-brainer. People are generally looking for the text that they put into a search engine in the first place. On Facebook, more traditional marketing savvy is called upon. Advertisers have the benefit of only showing their ad to people that will most likely relate with it, but the message is also appearing during a time when people are busy "lurking," coming up with clever comments or, in general, are focused on something else. Even though you are showing them something that Facebook has determined they will like, you have to make it appealing with your words.
As an Internet marketer, I thought Hubspot did a good job of using some effective ad language,
Those who practice web marketing are also heavily engrossed in data on how they and their campaigns perform. Having a statistic in their ad copy resonates well with prospects and is enticing enough to want to learn a little more. They also touch on a hot value proposition, which is driving leads with a social media platform. Driving leads is one of the main tasks of any Internet marketer.
It is important to remember that with Facebook (and other platforms), advertising is an iterative process. Think carefully about what would appeal to your target market, design, implement and then analyze. You may find that some images or ad copy work better than others, and advertisers rarely get it right the first time around.
Third-Party Websites
Aside from the major networks like AdWords, Bing's AdCenter, Facebook and others, there are many third-party websites out there offering ad space. Many of the principles outlined above still apply. Banner or other image-based ads must have compelling copy that is relevant to the landing pages they are attached to. Something worth noting here is not so much optimization, but data related to exposure from those sites. A webmaster offering ad space may have compelling packages, but be sure and do your homework before you buy. Ask for data on the number of unique page views or visitors the site or page you are advertising on receives on a monthly basis. Get demographic data to ensure that what you are selling actually appeals to those visitors. You should also not be afraid to ask for historical ad data or success stories from other advertisers that have used those services. Things like click-through rates, conversion rates, ad rotation and the like.
Paid advertising is one of the primary models for monetization of websites these days. No matter which network or website you go with, a huge user base is only part of the equation. You must configure your campaigns in a way that promotes a good user experience. This means not only configuring accounts correctly, choosing the right keywords and images, but also making sure your website is easy to navigate and relevant to the value proposition you have promised your prospects.
What tips do you have for optimizing PPC campaigns? Have you found that certain tactics bring in more conversions than others? Join in the conversation by commenting below.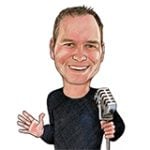 Shawn Manaher is the founder and CEO of The Content Authority. He's one part content manager, one part writing ninja organizer, and two parts leader of top content creators. You don't even want to know what he calls pancakes.