When I tell people I'm involved with online marketing, their eyes immediately widen and they start visualizing space-age computer code and Facebook icons. In reality, it isn't that glamorous, and list management is one of those non-glamorous tasks. Much like getting a yearly physical or balancing a checkbook, managing a contact list isn't something that anyone really wants to do, but it's something that needs to get done, regardless.
A well-maintained contact list is one of the more important end results of your marketing activities (sales being the most important, of course). This is the data that you will use to grow a business, sell products and services, and otherwise move a business forward. These people are your market (or at least they should be). Not managing a list well means you are working with bad information, which is not good in a sales setting.
Clean House
Working with current information means greater efficiency and less embarrassment. Routinely updating your contact list will help you avoid marketing to people whose information is no longer accurate.
Remove bad information like bounced or inactive emails after each campaign
Clear out people who have opted not to receive emails from you
Update contacts that have changed roles in a company
Move contacts to different market segments when they change (i.e. prospect to current customer)
Add information when you receive it. For instance, more phone numbers, alternate emails or additional addresses.
Add notes about your contacts that could be relevant for future communications. For instance, maybe you received a response to an email campaign or a sales call from a contact that contained important information for sales down the road.
If you don't perform any of the other tasks featured in this post for managing your contact list, you should at the very least keep your data current. When you have good information about your market, then you look like you know what you're talking about in your marketing. 
Use a CRM
Nothing makes cleaning your data easier than a Customer Relationship Management system. It used to be that these systems just helped you organize data, but they do a lot more than that now. On the data cleansing side, though, CRMs can help you:
Easily update basic information
Integrate customer information into your marketing activities
Categorize data and otherwise organize it in a way that is best for your workflow
Although it may not seem like much, a huge benefit of CRM software is that all of your customer and prospect information is in one central location. Rules and processes that can be used on one contact can be used for all others.
Conversely, if you store your contacts in an Excel spreadsheet, it's much more tedious and time consuming to go through and manage them. It will also drive you nuts. 
Use Email Marketing Software to Manage Lists
CRMs can be overkill if all you want to do is manage some opt-ins or perform other simple tasks. Look into using an email marketing program> instead. The following platforms are great for managing contacts in terms of maintaining a good list of active and willing email marketing participants.
There are a ton of other choices, as well. Search for email marketing programs on the web and you will instantly numerous options to sift through. The programs named above (especially the first three) are inexpensive, easy to use and great for managing contact information. 
Segment Your Email Lists
Just getting good information into a list can be daunting enough, so make sure you have that down before you move on to organizing everything. Once you're there, though, segment your email list according to who your market is and how your business operates.
For example, if your business sells different products or services to people with different buying interests, those contacts should be in separate lists because they should be receiving different messaging.
When you segment your lists, it makes marketing easier and more effective. People who are interested in a particular product or service won't be receiving messages that aren't relevant to them, and therefore will be less likely to opt out of receiving communications from you.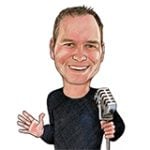 Shawn Manaher is the founder and CEO of The Content Authority. He's one part content manager, one part writing ninja organizer, and two parts leader of top content creators. You don't even want to know what he calls pancakes.