Do a basic search for books about content marketing, and you will find dozens upon dozens of titles on the topic. It's hard to find a bad title in this genre, and there are several books that can help, regardless of where you fall on the Internet marketing spectrum.
This title is excellent for those starting out in the Internet marketing game, or for small business owners wanting to go it alone. It gives a pretty comprehensive overview of copywriting and how it relates to search engine optimization. A helpful feature of the book is the presence of case studies, which are sprinkled throughout its pages. These case studies give writers a clear picture on how search and content marketing can convert to sales in their everyday business.
Who is this book good for? Students of Internet marketing and/or small business owners with a strong interest in learning the basics of content marketing and SEO. This title would not be ideal for experienced content marketers or those already heavily immersed in SEO.
This book offers a unique view (and name) for the viral phenomenon that happens to online content when it strikes a chord with users. It focuses on creating content that is sharable and ideas on how to get it to spread organically over the Internet using one's own network. Even if you have already been able to do this consistently, you may still find the ideas in the book to be useful. Readers get step-by-step instructions on how to create content that is highly sharable. One notable element is a discussion of triggers, or the things that make people want to share content online.
Who is the book good for? Those interested in learning more about creating viral content. The book is ok for intermediate marketers or for those not experienced with sharing organic content as a means of generating exposure.
This book is one of my personal favorites because it speaks to a strategy that all businesses should adopt in part or as a whole if they are interested in marketing online. One of the reasons the Internet has become so popular is because of easy access to free information in abundance. "Content Strategy at Work" taps into this idea, and it goes much further. It hammers home the idea that companies, individuals and anyone putting any kind of content online is really a publisher and, as such, needs to do it well in order to succeed. The book goes in depth into the many facets of content curation, management, aggregation and marketing.
Who is this book for? Writers and those already well-versed in the Internet marketing and/or SEO fields.
The title says it all. This book gives readers practical advice on organizing and managing a content marketing program, whether it's in a large corporation or a small business. It offers advice on identifying internal clients and contributors who may be able to help the effort. The text also posits tough questions about outlining budgets, deliverables, players, challenges and goals for content marketing, in general. Essentially, the book helps professionals further hone their skills and place content-marketing activities into a framework that can be followed like a process.
Who is this book for? Experienced Internet and content marketers who are looking to organize their activities and become more effective at what they do.
Yes, they write all sorts of books for dummies. Why should content marketing be any different? If you have ever read a book for "Dummies," you know that the series breaks subjects down into easy-to-understand sections combined with casual and practical language. This title doesn't get too deep into the organization dynamics of a content marketing strategy or complex concepts about how consumers read content online, but it does take a common sense, no-nonsense approach to explaining the basics. It covers popular channels for content marketing as well as tools that can help people succeed with content initiatives.
Who is this book for? Those who are starting out in online or content marketing that want to know all the basics before going any further.
If you are looking for a comprehensive and modern take on SEO and content marketing, this book has it. It covers things like keyword research, developing content for people and for search, page ranking factors, lead generation using content and how to develop a sound content marketing strategy. Social media and press release distribution are also topics of interest in the book. There is even a whole chapter devoted to developing content for social media networks and how to optimize these types of accounts.
This isn't directly a content marketing book, but I feel it highlights a lot of concepts that people need to be successful at it. If you are hiring someone else to do your writing for you, this title probably won't be of much use. If you are doing it all yourself, time management can often be an issue. It's very easy to get distracted or allow mental habits to keep you from generating good content. "The Pomodoro Technique" offers strategies on time management for writers.
Who is this book for? Anyone who wants help with time management, but especially those producing content on a daily basis.
This book is another one that gives a good overall view on web and content marketing. The theme, however, goes a little further into questioning all the old tactics used when testing a conversion funnel and how simple tweaks or tricks may not be enough to boost conversions. The title proposes a host of new solutions and ways of thinking about selling online and how content can help websites everywhere get more sales without deception or trickery.
Who is this book for? Experienced web marketers who are looking for a fresh perspective.
I know — this book has little to do with actual content marketing, but it does have a lot to do with selling online. Ultimately, the goal of any business that operates online is to sell more products and/or services to customers. "Conversion Optimization" gives detailed information on how to persuade visitors to make buying decisions. It also gives marketers ideas on the poor design choices that cause visitors to leave a website. The author highlights the difficulties of selling online and how to increase conversions through a variety of different techniques.
Who is this book for? Intermediate web marketers or, perhaps, beginners with a lot of passion.
The proliferation of the Internet has caused the buying habits of consumers to change radically. Now people go online to look for authoritative information on the products or services they are looking for. The authors of "Get Content. Get Customers" highlight this phenomenon and provide numerous case studies from large organizations on how content marketing has helped shape their success in selling online. The unique part about this title is that the authors offer ways to combine old and new methods of marketing to make a large impact on overall marketing initiatives.
Who is this book for? Experienced Internet marketers looking for a fresh perspective.
Sometimes getting a fresh perspective from an authority in the field can help enhance your content marketing efforts. Even books that may not speak directly to your everyday tasks can help you become a better marketer, overall. Are there any books that have made an impact in your professional life that aren't listed here? Would you recommend them to others?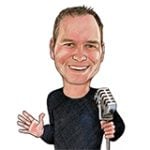 Shawn Manaher is the founder and CEO of The Content Authority. He's one part content manager, one part writing ninja organizer, and two parts leader of top content creators. You don't even want to know what he calls pancakes.